Upcoming Training Online Registration
Below is a list of the upcoming training events that are available for registration in the coming months. If you don't see a date or location you expected, don't hesitate to contact us here or using the button below.
Training Services
We have worked in conjunction with Microsoft to deliver App in a Day training across Canada. Through this, we have provided introductory training for PowerApps, the Common Data Service and Microsoft Flow.
Along the way, we have had a number of requests to deliver advanced training focusing on PowerApps Canvas Apps and Microsoft Flow.
Lab Driven Deep Dive Training
The Training Center
Our team will work with attendees in a classroom setting. The format of the training is a mix of live demos, product highlights and lab work.
Our goal is that attendees return to their offices and are able to build deploy PowerApps and Flow solutions.
Microsoft Flow and PowerApps
Real World Labs
A focus of the course will be the creation of a PowerApps and Flow solution for Expense Management.
This includes the development of a Mobile App, Tablet App and Flow automatons. Attendees can keep the lab content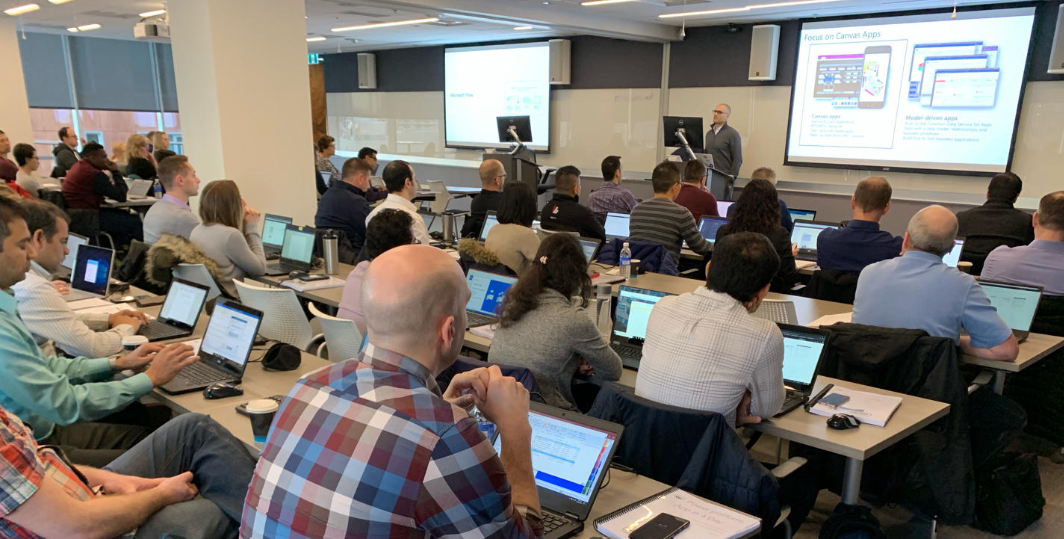 Lab Modules / Keep the Materials
We have designed Modules of training in the form of labs to cover key solution building concepts and patters in PowerApps and MS Flow solutions.
Printed and Electronic Versions of the Lab Content will be available for all attendees to keep
Suggest a Session!
Help Us Schedule Our Next Session
We are planning our next sessions in Calgary and Vancouver. If you would like to be informed of our next training session, click the button on the right:
Fidelity Training: Why You Should Attend
You will learn to design, develop and deliver solutions.
We will provide you with the training, examples, manuals, labs and resources you'll require to build and deploy your first complete PowerApps and / or Flows.
You will learn Quickly
With our instructor lead sessions and hands on labs, you will greatly reduce the amount of time required to become effective with this powerful toolset.
You will be connected with the Community.
You'll be connecting with other folks interested in building and delivering solutions with this powerful toolkit. Over the course of our training, we'll also guide you towards other great community resources and tools.
You will provide ROI to your Company.
After our training, we fully expect that you will be capable of building and deploying your own solutions. Many of the attendees from our past sessions have went on to build and deploy PowerApps and Microsoft Flow solutions within their own organizations.
You get to keep the Training Materials.
We will have the manuals prepared for you to walk through the labs. You can take them with you after the session as referenced material for your future projects.